HOME »
Case
»
Double Girder Overhead Traveling Crane
Double Girder Overhead Traveling Crane
The Double Girder Overhead Traveling Crane Transform the migration need to pay attention to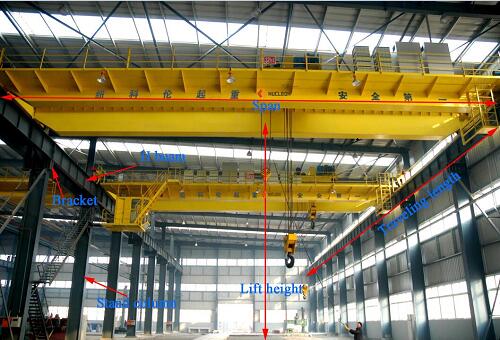 Double Girder Overhead Traveling Crane is important equipment in production process, a lot of can't continue without lifting machinery production. Double Girder Overhead Traveling Crane general cost is high, service life is long. So when the production workshop upgrade or production site change, the original lifting equipment is often reusable, but to be properly modified or repaired, and then re installed. Lifting machinery belongs to the special equipment stipulated by the state, Double beam crane transformation and relocation are required to perform formal procedures, the following is to say the transformation of the relocation process need to pay attention to matters.
If the equipment installation span of the new and old workshop is the same, the lifting machinery can be directly moved. Before the transfer of the equipment to the lifting machinery market, the Supervision Bureau informed that the only need to press the installation can be. But the original equipment certificate, the use of registration form, the latest annual report, shift the construction units related qualification documents, construction scheme and the owner of the organization code certificate to the ad hoc department, to inform after, you can carry out the installation work.
If the equipment before moving, need to carry out some substantive transformation work, must be before transformation to inform the transformation. It is important to note that the Double Girder Overhead Traveling Crane usually cannot be used in the scene change, because of the hoisting machinery transformation need to have a certain production condition, if the modification at the scene, often can't meet the construction conditions, belongs to the irregularities. Therefore, the Double Girder Overhead Traveling Crane should be sent back to the Double Girder Overhead Traveling Crane manufacturer for reconstruction. Therefore, the transformation should be made by the market supervision bureau where the manufacturer is located, rather than the market supervision bureau where the original equipment is located. After the completion of the renovation, before the re installation, but also need to fulfill the notification procedures, the data provided are the same as before, but need to transform the manufacturer to provide a transformation certificate. No matter Double Girder Overhead Traveling Crane transformation, or direct installation and re installation, after the installation is completed, the local special equipment testing department should be tested and accepted to the equipment use site, the test qualified and issued related reports can be legally used.