HOME »
Case
»
Double Girder Grab Bucket Overhead Crane
Double Girder Grab Bucket Overhead Crane
Double Girder Grab Bucket Overhead Crane has the lifting capacity around 5 to 25 tons together with the weight of the grab bucket, which is widely used in power station, storage, workshop, and port to load and unload scattered objects. Grab bucket overhead crane utilized for medium to heavy fabrication. These crane grab bucket are ideally suited to low buildings, where crane magnet is required.
Double Girder Grab Bucket Overhead Crane Features and Advantages
1.it is used for lifting 5t~125t stuff; 2.It has beautiful box-typed welded main girders. Computer optimized design for main girders with good performance and light weight; 3.Compact structure, light weight and high lifting height; 4.The Max. span reaches 31.5 meters; 5.It's widely used in workshops, metallurgy, warehouses and assembly shops etc.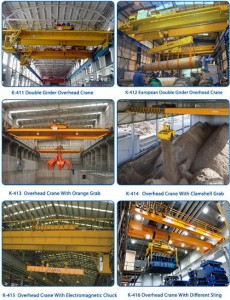 Double Girder Grab Bucket Overhead Crane Safety devices
Overload limiter, limit switch (lifting and traveling), interlocking protection devices, buffer, track sweep plate, shield, bus bar protection board, anti-collision device, main disconnecting switch, emergency stop system and motor overload protection.