crane jib
Column mounted slewing crane jib design ,Is suitable to work in the dock, warehouse, workshop etc fixed working conditions .
It can work whthin the 360 degrees to lift, move and materials handling.
Jib Crane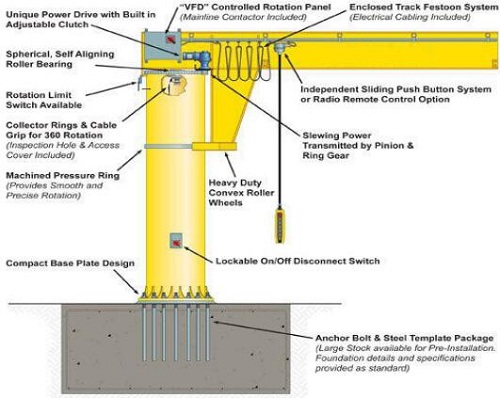 is composed by the vertical shaft, revolving arm, rotating shaft, hoist etc,the bottom of the vertical.Rated Lifting capacity: 0.5 to 16t.Arm length: 3 to 7m (Can be designed and fabricated according to your special requirements)Lifting Height: No limited (Can be designed according to your real requirement) Power Source: 3ph, 380V, 50HZ or under customer's local industry voltage.Two types of Jib crane: BZ model(light medium) and BZD model(heavy duty medium)Low noise .Investment-saved—the workshop's civil work cost, due to crane's light dead weight and low wheel pressure.Power-saved. The total motor power is much lower than normal design.We have professional packing and loading, to reduce the damage during loading & shipp
Nucleon located in Henan Crane Industrial Park, which has good raputition by "Town of China Crane" which is in Changyuan County of China.Is a overhead crane, gantry crane, coal series hoisting equipment, small light lifting equipment and other products of research and development, manufacture, installation, sales and service as one of the Sino-foreign joint ventures.We provide high quality products and after-sales service!And already awarded ISO9001 Certificate of Quality System,ISO14001 Environmental Management SystemandOHSAS18001 Occupation Health and Safety Management System Certification.This is our company's contact information,welcome to consult.