HOME »
Case
»
Pad wear and Crushed chain links of Crane Gantry
Pad wear and Crushed chain links of Crane Gantry
Pad wear and Crushed chain links of Crane Gantry
Pad wear
Pads are widely used on lifting Crane Gantry and hoists as stabilizer, outrigger and slider pads, which are used to take the brunt of the brunt of the force and make the Crane Gantry travel smoother. Naturally, the pads wear out much quicker than other crane parts and components. Inspect the pads for shining and wear which means replacement is needed. Abnormal noisy in the lifting crane or hoist should be noticed for it may be caused by the wearing pads.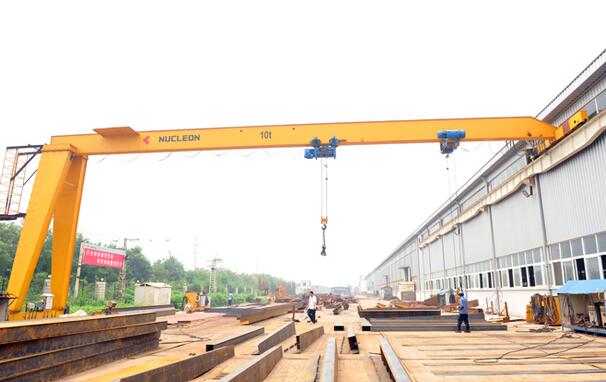 Crushed chain links
Crushed chain links are another common problem when working with chain based hoist systems or similar parts or components. If heavy loads are lifting during the project hours, the chain links are easy to get crushed or broken.
To prevent crushed chain crane accidents, it is obliged to make frequent chain inspection and maintenance a regular practice in these situations. Don't turn a blind eye on the crushed chains which is very different from a completely broken chain links and more difficult to be detected, especially from a distance.
Do repair your Crane Gantry and hoist when the crushed chain links detected.
Nucleon Crane Group leaders and engineers went to Saudi Arabia in person and completed the installation, which takes two months. The client is very satisfied with the performance and usage experience of our equipment.
Nucleon Crane Group is a crane manufacturer with well equipped testing equipment and strong technical force. Due to wide range products, good quality, reasonable prices, considerable services and stylish designs, our company has become one of the most competitive crane manufacture for enterprises among crane industry.
Our main products are engineering equipment, including overhead crane, gantry crane, foundry crane, electric hoist and winch, etc. Nucleon Crane Group has transformed to a mature manufacturer with advanced technology.
See more:http://www.nucleoncranegroup.com
http://www.nucleonoverheadcrane.com
Email:info@nucleoncranegroup.com
If you have any questions, Please don't hesitate to contact me!!