HOME »
News
»
china overhead crane
china overhead crane
Development Trend of china overhead crane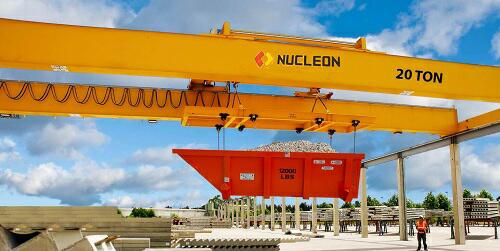 1.Adopt new theories, new technologies and new means.Further carry out the material handling machinery load variation,Dynamic characteristics, fatigue characteristics and reliability of the experimental study;Promote the optimization design and reliability probability design, the limit state design, the virtual prototype design, modern design methods, such as CAD/CAE design.
2.To the automation, intelligence and information technology, to complete, system and large-scale development.All kinds of materials handling machinery for the complete set of single system, so that the production equipment and material handling machinery combine.
The computer simulation of material handling system for dynamic simulation, to find the best match combination, and this kind of automatic and intelligent equipment into the system of multi-level computer information control and management network, and with self-monitoring, self-diagnostic maintenance device.
3.To large, efficient and energy-saving development. The largest overhead cranes up to 1 200 t; 80 t container cranes with double trolleys and double 40-foot containers; Machine maximum operating speed of up to 400 m / min; the largest belt conveyor bandwidth
Up to 32 m, the transmission capacity of 37 500 t / h and the maximum single transport distance of more than 30 km and so on
4.To the module, universal, to simple, diversified development.
On the series production of general-purpose material handling machinery, the use of modular combination, with fewer components of multi-species, multi-standard, multi-purpose series of products.
5.Attention to the rational human-machine product relationship, appearance and surface coating,is conducive to improving operational efficiency and operational safety, comfort.