HOME »
Case
»
The use of CD, MD Cable Hoist Electric and application
The use of CD, MD Cable Hoist Electric and application
The use of CD, MD Cable Hoist Electric and application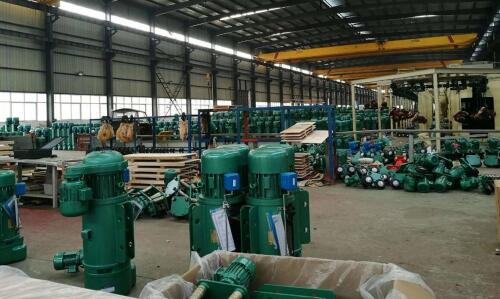 CD, MD Cable Hoist Electric belongs to the national standard Cable Hoist Electric, is a wire rope Cable Hoist Electric. Used for mounting on overhead I-beam rails (straight, curved) or fixed on the frame to lift various weights. Often used with electric single beam, electric double beam bridge, hoist gantry crane, etc. It widely used in factories, mines, railways, terminals, warehouses and service industries. Is a kind of lifting equipment which can be used in a variety of working conditions. In particular, it is able to perform the following tasks:
On the machine used for machining factories, equipment installation, loading and unloading of the parts and finished product handling.
For public facilities, building lifting.
For assembly line production.
Used as a simple lifting device to carry goods and lift goods.
CDMD-type Cable Hoist Electric can be installed on I-steel alone or on electric or manual single beam, double beam, cantilever, gantry and other cranes.
The CD and MD type Cable Hoist Electric are general-purpose wire rope type Cable Hoist Electrics. The benchmark working level M3 is 25%, and the equivalent starting time per hour is not more than 120 times. Wire rope Cable Hoist Electric working environment temperature is -25 °C ~ +40 °C. The main circuit has a rated voltage of 380 V AC and a rated frequency of 50 Hz. Not suitable for places full of corrosive gas or relative humidity greater than 85%, it cannot replace the explosion-proof hoist, it is not suitable for lifting molten metal or toxic, flammable and explosive materials.
Nucleon Crane Group is a crane manufacturer with well equipped testing equipment and strong technical force. Due to wide range products, good quality, reasonable prices, considerable services and stylish designs, our company has become one of the most competitive crane manufacture for enterprises among crane industry.
Our main products are engineering equipment, including overhead crane, gantry crane, foundry crane, electric hoist and winch, etc. Nucleon Crane Group has transformed to a mature manufacturer with advanced technology.
See more:http://www.nucleoncranegroup.com
http://www.nucleonoverheadcrane.com
Email:info@nucleoncranegroup.com
If you have any questions, Please don't hesitate to contact me!!