HOME »
News
»
Bridge Crane Design For Sri Lanka
Bridge Crane Design For Sri Lanka
This is Double Beam Bridge Crane Design For Sri Lanka client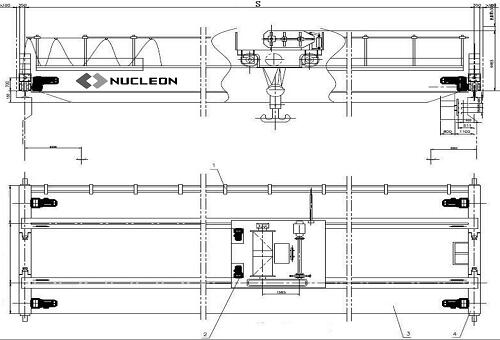 The 20 ton Bridge Crane,The span of crane is 20meters, The Max. lifting height 5meters and the crane run a day is 12hours
The Sri Lanka client will lift engine block,The power source standard is 400V, 50Hz, 3phase.
QD model double beam Bridge crane
1. QD model double beam Bridge crane is applied in open warehouse or rail sideways to conduct common loading unloading and material handling works. It is a heavy duty type overhead crane that satisfy frequenty using.
2. This Bridge crane is composed of bridge, travelling mechanisms, trolley, electric equipment. The bridge frame adopts box welded structure, the crane travelling mechanism adopts separate drive withe motor and speed reducer. All mechanism are controlled in driver's cabin. Power supply adopts cable festoon and sliding wire, select one when ordering.
3. There are some sample capacty of this Bridge crane as follows: 5T, 10T, 16/3.2T, 20/5T, 32/5T, 50/10T, 75/20T, 100/20T, 100/30T, 125/30T, 150/30T, 160/32T, 200/50T, 400/80T, 550/250T.
4. The duty class are A5~A7(Heavy duty).
5. The span of Bridge crane from 7.5m to 31.5m.
6. The control model: Cabin control or remote control.