HOME »
Case
»
Bridge Crane 5 Ton Nigeria
Bridge Crane 5 Ton Nigeria
Bridge Crane 5 Ton Nigeria Bridge Crane Client Order
On August. 19th 2019, Nucleon Crane Group got Bridge Crane 5 Ton Nigeria Bridge Crane Client Order   LD Model Single Girder Bridge Crane 5 Ton (LD 5Ton-193.55m H9m) and travelling length 30m. After 40days, we will send Bridge Crane 5 Ton with 60m rail and 30 m bur bar to Lagos Port Nigeria. Which solve out the materials handling problem of client's plant storage, while reducing Production Down time and the total cost of Maintenance for our Valued Clients!. The Nigeria Bridge Crane market is huge. we had sold single girder Bridge crane, double girder Bridge crane and gantry crane to the Nigeria last year.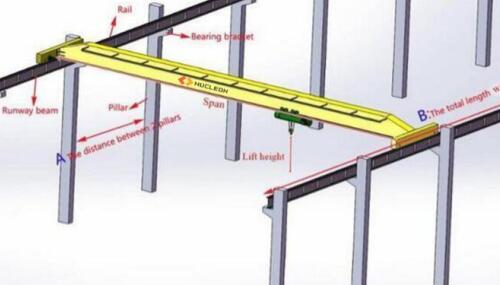 Nucleon Overhead Crane is whole-owned subsidiary of Nucleon Crane Group, which is China Overhead Crane Factory, main product: Overhead Crane, Gantry Crane, Electric Hoist and Winch. founded in 2005, the registered capital of 270 million Yuan, covers an area of 450000 square meters, There are 1700 staff in our company and 400 people of them are sebior and medium technicians. We are specialized in manufacturing Gantry Crane, Overhead Crane, Jib Crane, Electric Hoist, Electric Winch, and we are located in Henan Crane Industrial Park, which has good reputation by "Town of China Crane"
1. LD Single Girder Overhead Crane
2. LDP Single Girder Overhead Crane
3. Euro Style Single Girder Overhead Crane
4. LH Double Girder Overhead Crane
5. QD Double Girder Overhead Crane
6. Euro Style Double Girder Overhead Crane
7. QZ Grab Bucket Overhead Crane
9. QB Explosion Proof Overhead Crane
11. YZ Foundry Crane
Nucleon Crane Group is china famous Single girder Overhead Crane Manufacturer and double girder Overhead Crane Manufacturer.
See more:http://www.nucleoncranegroup.com
http://www.nucleonoverheadcrane.com
Email:info@nucleoncranegroup.com
If you have any questions, Please don't hesitate to contact me.