HOME »
News
»
5 Ton Hoist
5 Ton Hoist
5 Ton Hoist Delivery To Chile Customer
On September 16, 2017,  2sets 5 Ton Hoist (CD electric hoist 5 ton lifting height 8m) has been delivered to Tianjin port China, the good quality product always can be let your customer make cooperation with you.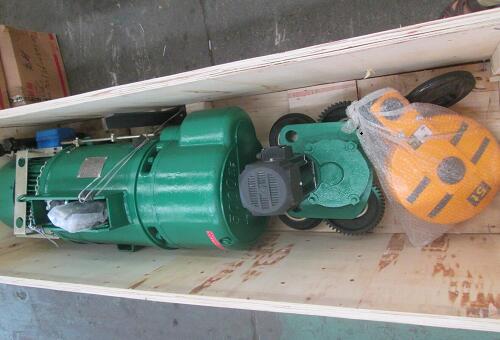 CD model electric hoist has one lifting speed.
MD model electric hoist has normal lifting speed and slow lifting speed which make it lift steadily and accurately.
CD or MD model electric hoist can be widely used to hoist heavy objects, or installed on the straight or curve I-section steel beam of single beam cranes. They can also be used together with Electric Hoist Double beam gantry cranes and jib cranes. All the above has made the electric hoists common in industrial and ore enterprises, railway, wharfs and warehouses.
The standard capacity of this type electric hoist: 0.5T, 1T, 2T, 3T, 5T, 10T, 16T, 20T.
Lifting height: 6m, 9m, 12m, 18m, 24m, 30m, and Max. 100m.
5 Ton Hoist is one of our main products. We can supply various electric hoist for our client.
For more details, please contact us via info@nucleoncranegroup.com