HOME »
Case
»
25 Tons EOHT Crane Technical
25 Tons EOHT Crane Technical
Note:
Cranes have many kinds of specifications to choose, the data in this table base on 9M top of rail. This is for user and designing install reference only when selecting cranes type. More detailed data and technical solution, please contact with us.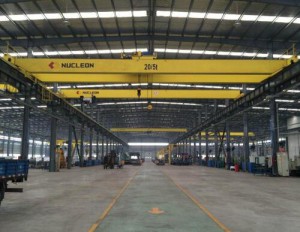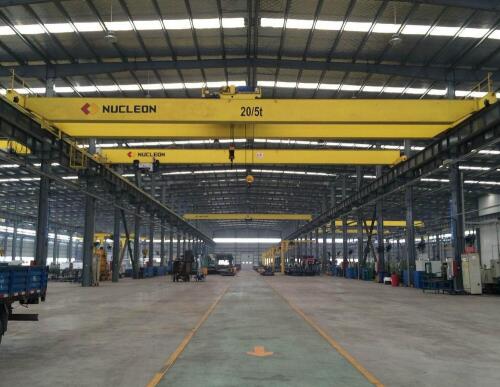 Feature:
1.Light weight structure, excellent performance, advanced design concept, effectively improve space utilization.
2.Made of high quality steel, durable and corrosion resistant.
3.Complete standard configuration, stable running, fast positioning, stable and safe operation.
4.Simple maintenance, low installation & maintenance costs, and long service life.
Basic Data 25 Tons EOHT Crane Technical
Crane Span (m)
10.5
13.5
16.5
19.5
22.5
25.5
28.5
31.5
34.5
Crane Weight (t)
4.57
6.52
8.29
10.08
12.36
14.42
17.53
20.62
26.36
Trolley Weight (t)
1.2
1.2
1.2
1.2
1.2
1.2
1.2
1.2
1.2
Max.Wheel Load (KN)
62.9
69
74.5
79.1
84.4
90.1
97.6
105.3
119.6
Min.Wheel Load (KN)
10.3
13.7
16.7
20.6
26.1
30.5
38
45.3
58.9
Crane Wheel Quantity (pcs)
4
4
4
4
4
4
4
4
4
Recommend Crane Rail
P22
P22
P22
P22
P22
P30
P30
P30
P30
Operation Speed (m/min)
Lifting Speed
5:0.8
Trolley Speed
5~20
Bridge Speed
8~32
Driven Motor Power (KW)
Lifting Motor
9.5/1.5
Trolley Motor
0.44*2
Bridge Motor
1.2*2
1.2*2
1.2*2
1.2*2
1.2*2
1.6*2
1.6*2
2.5*2
2.5*2
Crane Power
12.78
12.78
12.78
12.78
12.78
13.58
13.58
15.38
15.38
Main Dimension (mm)
Top of Rail Height (mm) b
9000 ( or specified by clients)
Top Clearance (mm) h
≥200 (GB/T 14405-2011)
Hook to crane Top (mm) c
842
842
842
842
842
842
842
842
842
Rail to crane Top (mm) a
1200
1200
1400
1400
1650
1650
1850
1850
1850
Lifting height (mm) h
9000
9333
9352
9372
9454
9449
9532
9686
9713
Ceiling to floor height (mm) c
10400
10400
10600
10600
10850
10850
11050
11050
11050
Girder Bottom Height (mm) f
8464
8471
8490
8510
8592
8545
8478
8628
8405
Hook Approach L.(mm) h1
650
650
650
650
650
650
650
650
650
Hook Approach R.(mm) h2
650
650
650
650
650
650
650
650
650
Rail Center to left wall (mm) dL
230
244
244
244
246
246
246
248
248
Rail Center to right wall (mm) dR
230
244
244
244
246
246
246
248
248
Bridge Wheel Base (mm) W
2700
2700
2700
3100
3800
3800
4500
5000
5500
Trolley Rail Guage (mm) Lx
1400
1400
1400
1400
1400
1400
1400
1400
1400
Buffer Height (mm) H2
100
100
100
100
100
100
100
100
100
Crane Width (mm) B
3150
3210
3210
3610
4420
4310
5010
5584
6124
Guiding (contact) Force (KN) S
22
23.2
24.4
25.6
26.8
32.3
34.3
34.3
38.3
Buffer Force  (KN) Bf
38
40
45
50
53
40
45
50
53