HOME »
Case
»
20/5 Ton Double Girder Overhead Crane
20/5 Ton Double Girder Overhead Crane
20/5 Ton Double Girder Overhead Crane For Qatar
20/5 Ton Double Girder Overhead Crane Span 30m, lifting height 11m, two lifting speed, low speed and high speed. Travelling speed Frequency inverter control.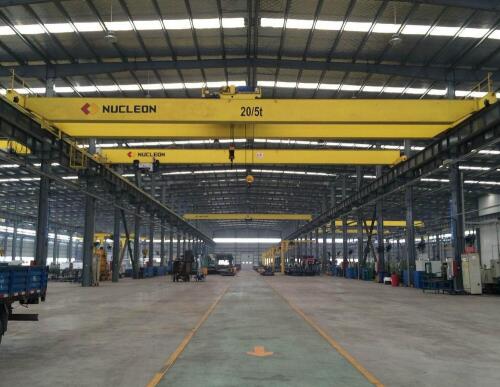 China Nucleon 20/5 Ton Double Girder Overhead Crane Team is proud to play a part of a Qatar 20/5 Ton Double Girder Overhead Crane Project! We continuously strive to increase the Production Up time and Performance for Maximum Productivity and Safety, while reducing Production Down time and the total cost of Maintenance for our Valued Clients! China Nucleon Crane has the right crane to meet your needs. Whether for maintenance crane units rarely used or three-shift production, we have the solution for you!
Nucleon Crane Group is china famous Single girder Overhead Crane Manufacturer and double girder Overhead Crane Manufacturer.
See more:http://www.nucleoncranegroup.com
http://www.nucleonoverheadcrane.com
Email:info@nucleoncranegroup.com
If you have any questions, Please don't hesitate to contact me.